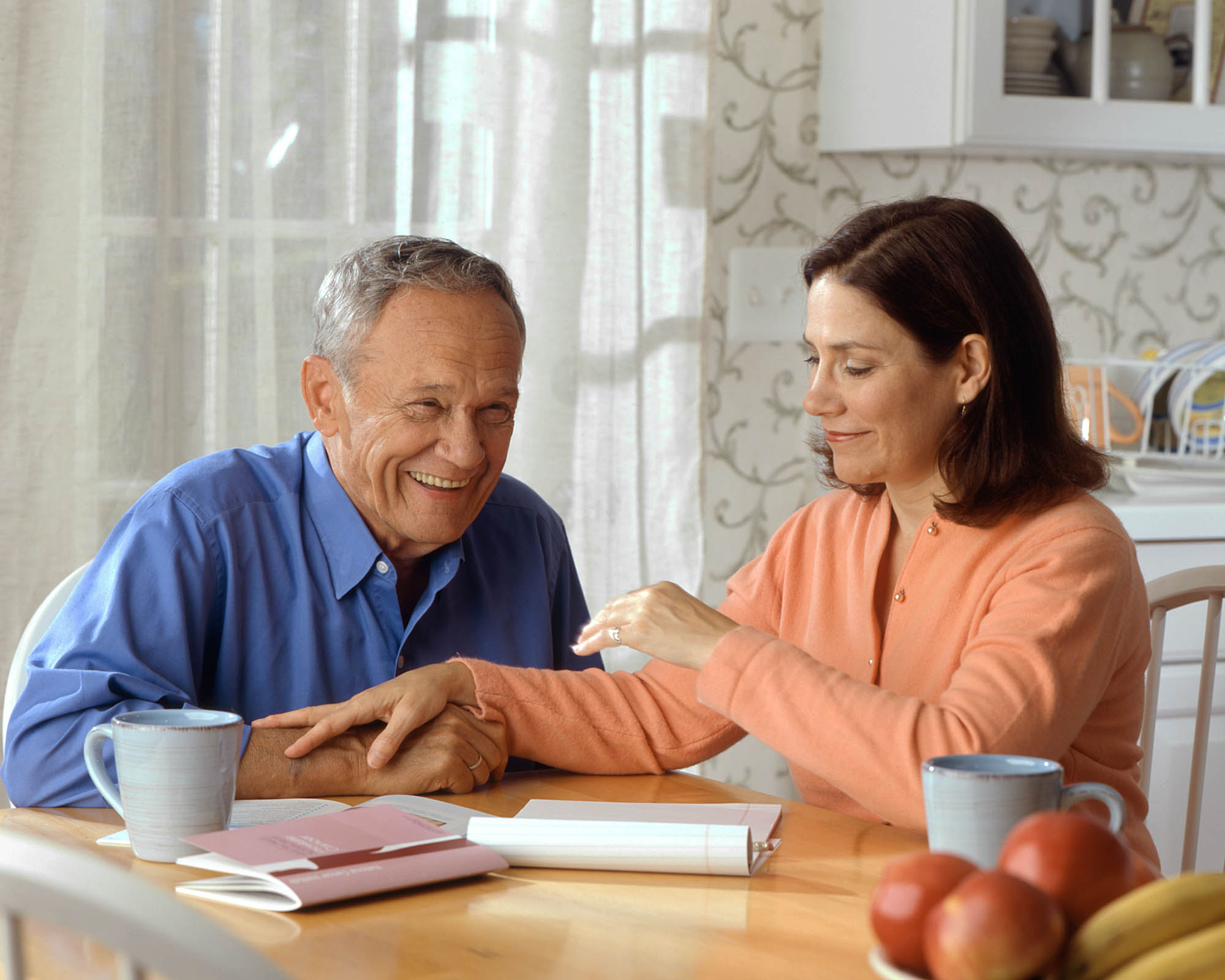 How do I know what type of services I need, and for how long?
At the start of your service one of our Registered Nurses (RN) provides you with an in-home evaluation. At which time they will consult with you and help you determine your home care needs. Once they complete the evaluation, they will create a Plan of Care. This will put you in the best position to decide what type of services and how much services will benefit you the most. The plan of care will cover the amount of services and type of services needed.
WHEN IS HOME HEALTH CARE NEEDED?
Here are some signs that you may need home health
You are afraid to stay at home alone.

You have a fear of falling.

You have a history of falls.

You are suffering from memory loss.

You are having trouble preparing your own meals.

You have problems with walking or balancing.

You have trouble getting in and out of bed.

You are forgetting to take your medication.
You are having trouble maintaining your home.

You are forgetting to pay your bills.

You suffer from confusion or memory loss.

You have a chronic illness or have had a disabling surgery.

You need Pre-operative and Post-operative care.

You fear of falling in the bathroom or shower

You are unable to wash your clothes.

You need someone to run errands (get the mail, groceries, pick up prescriptions)
Common questions you might have
How long will I need homecare services?
Homecare services can be intermediate (short term) and long term it all depends on your needs
What is Intermediate Home Care Services?
Intermediate (short-term) homecare services are for someone that comes out of the hospital or rehabilitation and requires services at home while they are homebound. Meaning that it is difficult for the patient to leave their homes or medical reasons.  Short-term care mostly consists of one or a combination of nursing, physical and/or occupational therapy, and personal care.
Long Term homecare services go beyond the short-term. The patient requires more  services and hours for an extended period of time. Long term care includes all of the services from the intermediate homecare, and additional services such as homemaking, companionship, respite care.
Why would I want my services at home?
There is no place like home to provide a healing, relaxing environment when recovering from an illness, injury or surgical procedure.
Could home health be right for you or someone in your family?
It is no surprise that 90% of Americans want to age at home. Now more than ever, medical experts agree that aging at home is the best choice. It's healthier, more flexible. In fact, a lot of our clients that we spoke to agree that they would rather recuperate at home, if it is feasible. If you need IV Therapy or wound care, what better place to recover than in the comfort of your home.
What type of insurance or payments does Caring Professional Services accept?
Caring Professional Services accepts Medicare, Medicaid Waivers LTC (Long Term Care), Medicaid MMA (Medicaid Managed Care Program), Veterans Affairs, Private Pay, Private Insurance Long Term Care, Some HMO's, Some Workmen's Compensation Insurance. We also accept cash, checks, credit cards, and Paypal.
If you have any questions, we will be more than happy to assist you by contacting your  insurance company to help you determine what your benefits coverage will pay for.
Are the services tax deductible?
In many cases, our services are tax deductible. You should contact your tax accountant just to be sure.
What type of caregivers does Caring Professional Services hire?
All of our staff are carefully screened, and we conduct a thorough Level 2 Background check which includes fingerprints. They are required to pass a physical exam and meet all the credentials required by the State of Florida Agency for Healthcare Administration (AHCA) before they are allowed to work. Caring Professional Services does not discriminate and is an equal opportunity employer.
How quickly can I receive services from Caring Professional Services?
Our goal is to staff a new client within 24 hours.
Can clients stop the service at any time?
Yes, but we request a 24-hour notice whenever possible so that staff can be notified.
What if I am not satisfied with my caregiver's services?
Your satisfaction is our #1 priority. If the staff that we send do not meet your criteria, we kindly request that you call the Agency and we will promptly find a more suitable caregiver to meet your needs.
What type of care do the Home Health Aides provide?
Both our Certified Nursing Assistant (CNA's) and Home Health Aides (HHA's) can provide individual care with special attention to details. They can assist with activities of daily living such as; bathing, dressing, grooming, personal hygiene and also assist with light housekeeping, companionship, run errands, and give caregivers a break by providing respite time.
What type of Services do the nurses provide?
Our Registered Nurses (RN's) and Licensed Practical Nurses (LPN's) perform skilled care such as Medication Management and Administration, Wound Care, IV Therapy, HI-Tech nursing, injections, teaching caregivers and other services. Our RN's also supervise all aspects our patients care and report back to the doctor's office any changes in the patient's condition.
What do services cost at Caring Professional Services?
Most Services are covered by a client's insurance, but in some cases services may not be covered or partially covered. In these cases our services are tailored to meet each client's individual needs, so the cost per hour is variable. Our prices are very competitive and comparable to other companies like ours. 
In order to give you an accurate quote for private pay services, we need to know what services are needed, how many hours per day or week are required. We also factor in if the services are needed during the day, evening, night and/or overnight. So, it is best to give us a call since every client's needs are different.
How do I arrange for services?
You may call us at (305) 266-0731
We accept;
Many insurance payments
Cash
Check
Credit cards
Paypal
We will be more than happy to discuss all possible payment options with you.
We will also assist in contacting your Insurance Company (if you have one) which sometimes covers necessary homecare services. All services paid by the insurance companies require an authorization prior to services beginning. 
To request an authorization to the insurance company we will require to have your doctor or physician to send us orders to begin home care services. 
If you have any questions, feel free to give us a call at (305) 266-0731and we will be more than happy to meet with you and contacting your insurance company (if you have one), to help you determine what your benefit coverage will they  pay for.
What if my insurance does not cover Home Health Services or I don't qualify for any federal programs?
If you don't have insurance and you don't qualify for any federal programs than it is likely that you will need to pay out of pocket, which means you can contract us directly and you are personally responsible for all costs.
Our private pay programs allow clients and their caregivers to purchase services directly "a-la-cart", meaning they can customize the amount and type of care needed.  Our services are very affordable and can be customized to fit the client's needs.  
Do you accept Private Long Term Care Insurance? 
Caring Professional Services accepts all major private long-term care insurance through LTCG.  Under these plans we cover services like;
Nursing Care
Wound Care Management
Medication Monitoring
Infusion & IV Therapy/High Tech
Diabetic Management
Post Hospital Care
Foley Catheter Care
Medication Administration
Wound Care
Pre and Post Surgery Care
Physical and Occupational Therapist
Strength and Condition
Ambulation
Home Health Aides
Homemaking
Light house keeping
Escort/Companionship to medical appointments
Companionship
Respite/Caregiver relief
Shopping
Laundry
Cooking
Feeding
Medication Reminders
Depending on what kind of insurance you have, there may be prior authorization required. There also may be co-pay and/or deductible.
Private Long Term Care Insurance
Not all long-term care insurance policies pay for home health care, so read your policy carefully. Depending on what kind of insurance you have, there may be prior authorization required. There also may be copay and/or deductible. Additionally many policies require you to go out of pocket for a period of time before the benefits kick in.
Medicaid Waivers/Managed Care Programs
Federal or State funded programs such as Medicaid Waivers through Alliance for the Aging are local social service programs that enable frail and disabled older individuals to remain independent in their communities. This funding covers home health care, personal care, chore, escort, meal delivery, and shopping services for individuals with significant needs. In order to qualify for these programs you must have 100% Medicaid. There is also a waiting list to get into these programs and are awarded based on need. If interested call the Alliance for Aging (305) 670-6500 for information on such funding opportunities.
Veterans who are at least 50% disabled due to a service-related condition are eligible for home health care coverage provided by the Veterans Administration (VA). A physician must authorize these services, which must be delivered through the VA's network of hospital-based home care units. The VA does not cover non-medical services provided by home health care agencies. There is also the Aid & Attendance Program, which may pay for much needed home care services (you must meet certain criteria).
Caring Professional Services is also part of the American Veterans Care Connection (AVCC), a special program that can help you receive additional care at home at no cost to you.
Will pay for an employee who are injured at work and suffer catastrophic injuries. Caregivers are provided for assistance in the home such as personal care and grooming, bathing, homemaking.
In some communities, local non-profit organizations, provide financial support for home health and supportive care. Typically, dependent on an individual's eligibility and financial circumstances, such organizations may pay for a portion or even all of the services needed. Hospital discharge planners, social workers, local offices on aging, and the United Way are all good resources for more information.
We have compiled a list of Community Resources that we hope you will find helpful and useful to you. If you do not see a resource that you are looking for, do not hesitate to give us a call and we will be more than happy to assist you in your search.
Our team of professionals is ready to help you
and your family live better.